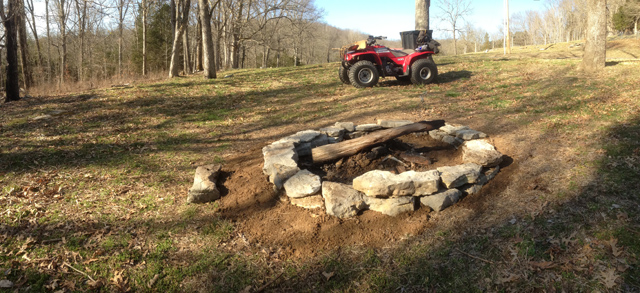 We're supposed to have some awesome weather this weekend here in Middle Tennessee, so I spent some time today building a fire pit where we burned some brush a couple weeks ago.
We've got a couple of farm projects this weekend to get us ready for Spring, but sometimes you have to make time to sit and stare at a fire, drink some good beer, and listen to the coyotes howl.
The Winter hours have really kept us busy on the farm. We cleared an acre of fallow pasture, planted apple trees and blueberry bushes, made tons of compost, got seeds ordered and planted, and created garden beds. Thanks to the Rodale Institute and our certifying agent we are now in the inspection phase for USDA Organic Certification.
Our values are our certification at the end of the day, but recognition for going the extra mile doesn't hurt. Our reward is knowing this labor of love will ensure the food we grow meets the highest quality standards our community deserves.
How to build a firepit using manufactured stone
Here is a very popular tutorial I did for those who do not have access to real stone or want the look of manufactured blocks. Each photo in the series is captioned with instruction. Like us on Facebook to see future projects.