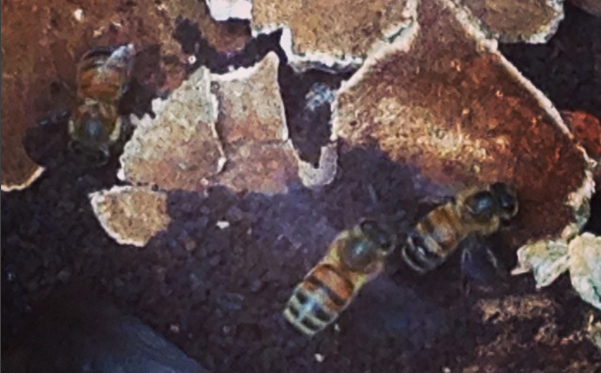 Honey bees make a quick pharmacy stop on our farm's used Turkey Tail mushrooms (March 2015).
Last year, I noticed honey bees coming and going from our compost bin of organic mushrooms we use to make extracts and thought I had a swarm problem. On closer look, I discovered they were nibbling on our used mushrooms and then flying away.
Understanding that bees eat pollen and nectar, I suspected they were up to something entirely different. I suspected they were self-medicating on residual compounds found on Turkey Tail (Trametes Versicolor) and Red Reishi (Ganoderma lucidum) mushrooms left over from our extraction process.
As scientists are now discovering, that may very well be the case. A scientist at the Brazilian Agricultural Research Corporation recently discovered that the Brazilian stingless bee uses fungus to protect larvae food stores from spoiling.
He and his team discovered that the fungus is a key part of the hive. It permeates the cerumen, a material made of wax and resin that the bees use as building material. After the bees have deposited regurgitated food for the larvae inside the cells, and laid an egg, the fungus starts growing.

Once the egg hatches, the larva feeds on the fungus, and it turns out this food is absolutely crucial. When the team tried to grow the bees in the lab without the fungus, the survival rate of the larvae dropped dramatically – from 72 per cent to just 8 per cent.
This Summer, self-taught mycologist Paul Stamets began working with Steve Sheppard, a bee expert at Washington State University, to test various wood decaying mushrooms on honey bees. They are finding promising results that could lead to ways of treating colonies for parasitic mites and other infections at the heart of troubling colony collapse disorder.
As other scientists are now discovering what I also observed, it may be that bees are already doing it themselves. Understanding what they are doing and why could help us understand more about the medicinal value of mushrooms and lead to both a re-evaluation of our use of fungicides and important life-saving discoveries for humans as well as bees.
Available now: You don't have to be a bee-in-the-know to take advantage of these important mushrooms. Half Hill Farm makes organic mushroom extracts with USDA certified organic mushrooms, USDA certified organic pharmaceutical grade USP alcohol, and distilled water.
Read several studies showing what scientists are discovering about extracts of these mushrooms and what they can do now for your better health & well-being.