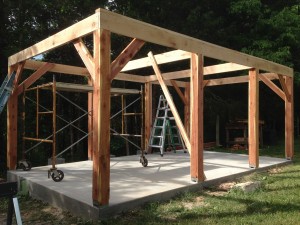 Construction started this week on Half Hill Farm's mushroom workshop pavilion. Made of locally milled oak & cedar, it's a perfect setting to help foster an important relationship with nature through a hands-on learning experience. We can't wait to share this beautiful space with you this Fall here in rural Woodbury, TN!
We could not have done this without you! Back in March of last year, several of you helped us raise a portion of the funds we needed to build this shelter. We didn't meet our goal, but with a little hard work and support we are finally creating a space to share sustainable fungi-culture & our love of the outdoors.
We are also humbled by the love and appreciation for the healing products we create out of personal needs and our deep reverence for the natural world. Our 1:1 Red Reishi mushroom dual extract was first introduced as a gift to donors of this project last year and has since shipped to over 40 states to folks seeking nature's balanced remedy. There is never a day we are not here quietly listening, learning and creating. Every day you reach out to us and share your story of why and how you found us affirms our commitment to serve.