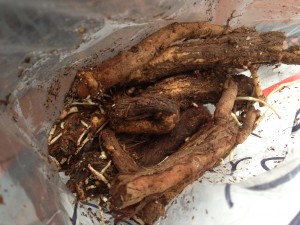 Two things I'm very excited about arrived at the farm this week. First is the endomycorrhizal fungi I'll tell you more about later. The second are the first of our Cascade and Centennial hop rhizomes! They'll go in our freshly cut beds as soon as the weather permits.
Half Hill Farm is the only farm in Tennessee providing a local source of USDA certified organic hops (certifying April 2013). The Tennessee Department of Agriculture stopped keeping records of Tennessee's hop production sometime before Prohibition when machine harvesting began concentrating the nation's hop production in other states. The USDA could find no records of commercial production in Tennessee.
Half Hill Farm is proud to serve the needs of a growing craft beer culture in Tennessee that celebrates an American craft spirit of community, ingenuity, and sustainability. If you are a local craft brewer and want to visit our farm, get in touch, and grow with us!