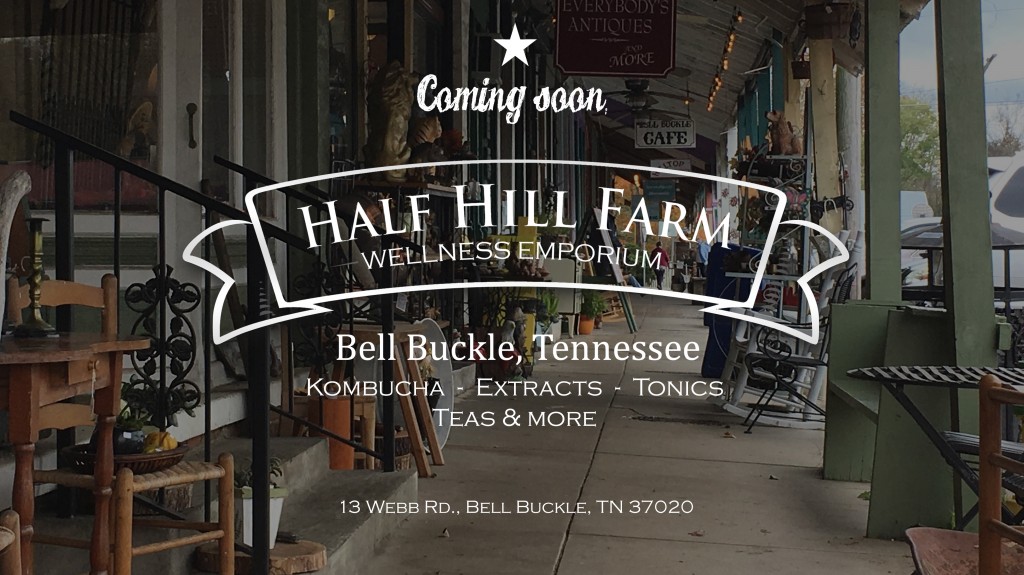 (Woodbury, TN) – Half Hill Farm is opening a retail store in neighboring Bell Buckle. The new location will be the second for the maker of hand-crafted kombucha, extracts, tonics and other natural health products.
Half Hill Farm's Wellness Emporium in Bell Buckle will feature all of the products the farm manufactures in Woodbury plus other products that promote better health and well being.
"We are excited and humbled by the opportunity to expand locally," said Half Hill Farm co-owner Christian Grantham. "The Best part of our growth is that it comes directly from customers feeling good and making healthier choices."
Half Hill Farm is a certified organic farm that got its start growing mushrooms. Their popular mushroom extracts now ship all over the United States. The farm plans to expand its extract offerings as well as offer craft sodas and teas.
Local demand for Half Hill Farm's kombucha and apple cider vinegar tonics made at the Arts Center of Cannon County has the company searching for larger manufacturing space as well to bring on wholesale accounts.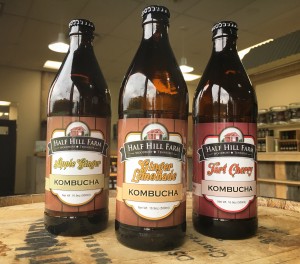 The company aimed to make kombucha, a fermented and carbonated black tea flavored with juices, at its Woodbury location and sell it at markets but never out produced local demand. Half Hill Farm doubled their brew tanks this year and are reaching their maximum production.
"We had no idea people even knew what Kombucha was," said co-owner Vince Oropesa. "We love Woodbury and have been working hard over the last year to keep our manufacturing based here."
Half Hill Farm's team is also growing to help with growth with the support of Scot Smotherman, Manchester native, UT Knoxville graduate and small business owner. Smotherman has worked for decades in sales for the tech industry.
"I have been extremely impressed with Half Hill Farm's commitment to product quality and their genuine concern for their customers' health has motivated me to support their growth and expansion," said Smotherman.
Fermented food & beverage, vinegars, and herbal extracts are seeing a revival as consumers are reintroduced to time-tested natural remedies and fermented food culture. Growth in fermented foods has led Middle Tennessee State University to create a first of its kind fermentation program to help better position entrepreneurs and an educated workforce.
Bell Buckle is consistently rated in the top ten of Tennessee's small towns due to its historic designation & charm, large seasonal festivals and the world-famous Webb School, the South's oldest preparatory boarding school.
"The Town of Bell Buckle is delighted to have Half Hill Farm as our newest member of the Bell Buckle community," said Bell Buckle Mayor Jenny W. Hunt. "Bell Buckle is committed to a healthy lifestyle for both its residents and visitors, and Half Hill Farm will compliment that commitment and further enhance our focus of happier and healthier lives."
Half Hill Farm hopes to open the Wellness Emporium in Bell Buckle shortly after the New Year. You can follow progress on their website or follow them on social media.
Get a free sample of Half Hill Farm's Kombucha and tonics at their Woodbury store located at the Arts Center of Cannon County at 1424 John Bragg HWY, Woodbury, TN 37190. You can find their kombucha on tap at The Turnip Truck in East Nashville.
Website: https://halfhillfarm.com
Facebook: https://Facebook.com/HalfHillFarmTN
Twitter: https://Twitter.com/halfhillfarm
Instagram: https://instagram.com/halfhillfarm