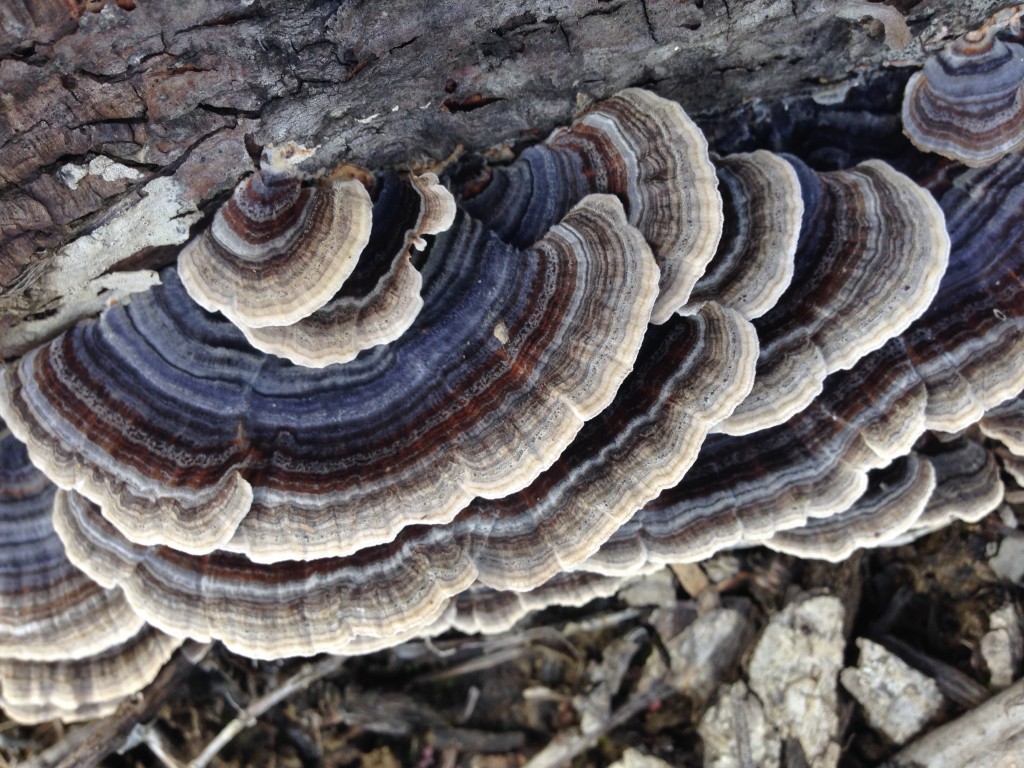 Trametes Versicolor growing on a down tree at Half Hill Farm.
Just before Thanksgiving, Vince's mother Sandy went to the hospital with what was believed to be pneumonia. It was determined after a few restless days of testing that she had stage IV non-small cell lung cancer and was quickly put on chemotherapy.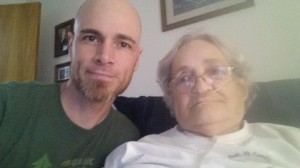 The diagnosis was abrupt and shocking. At 71 years of age, the prognosis is also very uncertain. Despite this, Sandy takes one day at a time with lots of family support, focused treatment and hopefully a little extra help from our own backyard.
Sandy's primary treatment is carboplatin with thoracentesis as needed to remove a build up of fluid outside her lungs caused by the cancer. After speaking with her oncologist about our research into mushrooms, Vince convinced his mom to take a twice daily dose of Turkey Tail mushrooms (Trametes or Coriolus Versicolor) starting with her first treatment.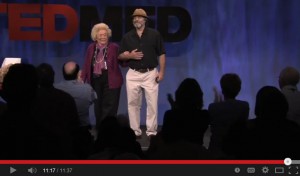 Turkey Tails are a common mushroom that grows throughout the woods of Tennessee and all over the world. Our interest in the science behind the anti-viral and anti-cancer properties of Turkey Tails began shortly after seeing preliminary clinical trial results and an anecdotal story in a TED lecture last year by mycologist Paul Stamets. In the last two minutes of the speech, Stamets described his 84 year old mother's successful fight against stage IV breast cancer that included taking Turkey Tail mushrooms. She was a deeply religious person who hadn't been to the doctor since 1968. According to Stamets, it was the second worst case of stage IV breast cancer her doctor had ever seen, and she was given three months to live. She's now cancer free.
The early clinical trial data and Paul's hopeful story resonated, and Vince didn't hesitate to start his mother on Turkey Tails. At the same time, we began cultivating this amazing mushroom on our farm with a deeper sense of purpose.
We realize mushrooms aren't a cure for cancer. Less is known about effects of Turkey Tails on stage IV cancers, but we know it will be the very best way we can help her body heal naturally with virtually no side effects or interference with her primary treatment. Below is some of the science behind how Turkey Tails (used with chemo or radiation) significantly enhance the body's natural defense against cancer cells and extend disease free survival.
Research: New studies of Turkey Tails here in the U.S. are focused on the mushroom's high percentage of protein bound polysaccharide (PSK) concentrations and how they help the body fight cancer cells.
Given these results, why aren't Turkey Tail mushrooms a common adjunct therapy in the United States? What we discovered is using Turkey Tails is still viewed as an alternative medicine by most professional health care providers in the U.S.. Due to its widely known medicinal properties, its use in medicine cannot be patented which limits its commercial appeal for major drug companies. That often leaves finding and researching this treatment option up to patients. That may soon change thanks to new government-funded clinical trial research from the National Institute of Health's Center for Complementary and Alternative Medicine (NCCAM).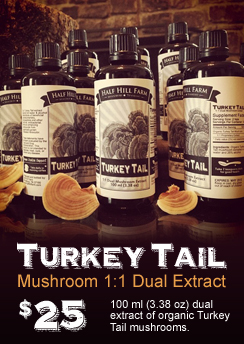 How to take Turkey Tail mushrooms: The most popular way to take Turkey Tail mushrooms is in a capsule, but the body has a hard time digesting the mushroom's tough chitinous cellular structure (which is why you don't see recipes for eating it). Capsules are easy to manufacture using ground mycelium grown on rice or grain. The best way to realize the full spectrum of benefits is by taking a decoction (a lengthy hot water extraction to concentrate water soluble polysaccharides and other beneficial compounds). Tinctures are alcohol extractions of adaptogenic triterpenoids. The better quality extract blends both the decoction and tincture in a dual extraction. This is also the preferred method of botanical extraction by ethnobotanists and scientists conducting tests and trials. Capsules that simply grind this mushroom into powder are not extracts and can contain ground up rice used to grow the mycelium. Because we could not find a quality product we trusted with our own mother, we created a Turkey Tail mushroom dual extract using USDA certified organic mushrooms grown on our farm, USDA certified organic USP alcohol (pharmaceutical grade) and distilled water just like the standardized method outlined in studies. You can now buy our Turkey Tail, Red Reishi, Chaga, or Lion's Mane mushroom extracts online and expect the exact same level of quality and care.
Read more on Half Hill Farm's mushroom dual extracts:
See more of our products we've developed and that have been used successfully by customers since this post:
DISCLAIMER: Please consult your physician before using any of our products for health purposes. These statements have not been evaluated by the Food and Drug Administration. Our products are not intended to diagnose, treat, cure, or prevent any disease.