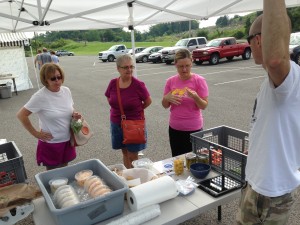 We had no idea our first year's test patches would produce anything near enough to go to market. Maybe it's all the rain. Maybe it's a couple of exciting farm practices working in our favor.
Whatever it is, we're enjoying meeting our neighbors Saturdays at our local Woodbury Farmers Market just a couple miles from the farm.
We're one of about seven vendors, and we're proud to offer our organic produce and small batch craft food products at conventional prices. Some of our seasonal products that will only last as long as the garden puts out are 16 oz. Raw Salsa (our most popular item), 16 oz. Spicy Dill Pickles, 16 oz. Pickled Peperoncinis (my personal favorite!) and 8 oz. Pesto. We also have limited tomatoes, pickling cucumbers, various peppers and basil with sugar baby watermelons and crook-neck summer squash coming soon. The USDA Certified Organic apples and blueberries will start coming in next year. Earlier this Summer, we gave our first harvest of Cascade hops to members of the Middle-State Brew Club and hope to bring more to the market in coming years.
If you're out on Saturdays from 6 a.m. to noon, be sure to stop by the Arts Center of Cannon County (click here for map and driving directions) where the market is located and support local agriculture. You may start seeing construction of a 60 x 100 open-air market pavilion very soon to provide needed space with power and water for local farmers. We're very excited about the market's growth and serving our community with quality organic vittles grown and made right here in Woodbury!