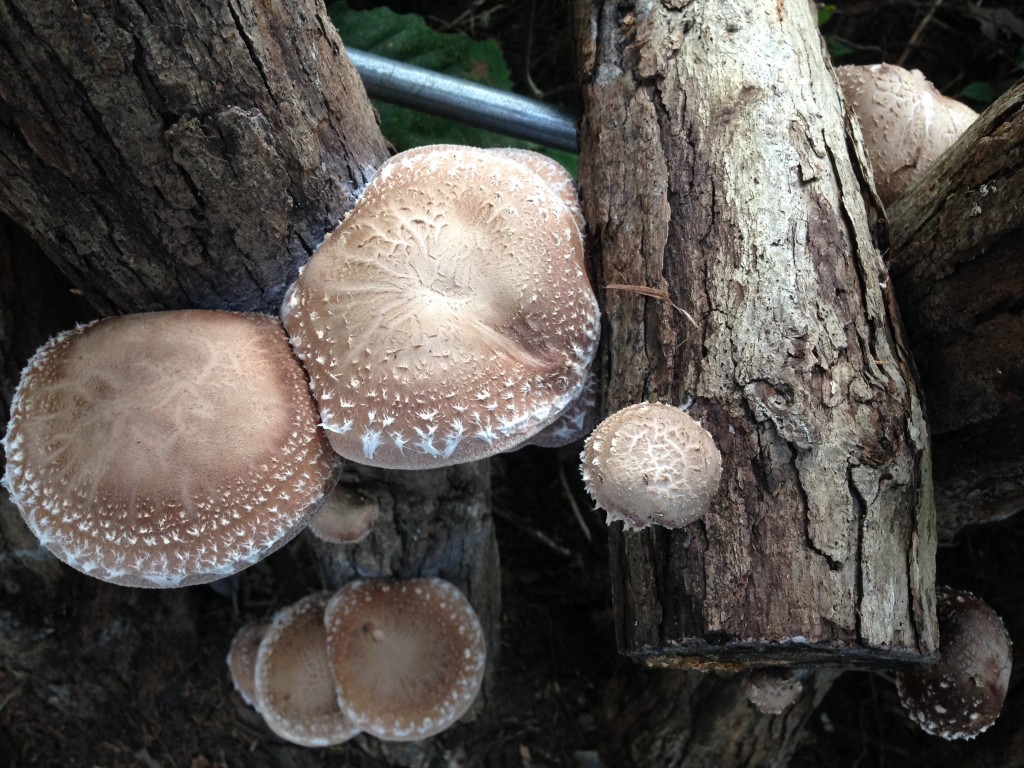 Shiitake mushrooms growing on oak logs at Half Hill Farm in Woodbury, TN
If you purchased a Shiitake mushroom log from Half Hill Farm that is tagged "F14," now is the time to follow your soaking / shocking steps to get your first edible mushrooms within a week.
Once your Shiitake mushroom log starts producing mushrooms, there's a simple technique that dramatically increases their vitamin D before you either eat them or dehydrate them for long term storage.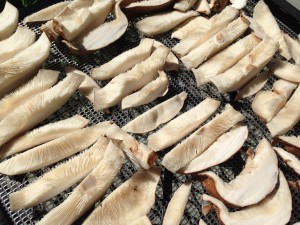 Mycologist Paul Stamets details this simple process and science here, but the basic steps are pretty simple:
Remove stems and slice into roughly half inch slices.
Spread slices evenly on drying racks (anything that allows air flow) in the sunshine with the gills facing up for 6 peak hours avoiding early morning dew and evening moisture.
Bring the mushrooms indoors overnight to avoid humidity, then repeat 6 hours of sun exposure the next day to achieve 12 total peak hours of UV exposure.
Finish completely drying your Shiitake mushrooms in a dehydrator, and store them in sealed jars. To enjoy anytime, simply soak them for an hour and follow most any recipe for fresh mushrooms.
According to Stamets, Shiitake mushrooms that are not exposed to sun may have less than 40 IU/100g of vitamin D. With the steps above, you can expect 46,000 IU/100g of vitamin D, D2, D3, and D4!
To achieve healthy serum levels of vitamin D exclusively from your dried Shiitake mushrooms, you will need to eat no more than 10 grams a day which is roughly equivalent to 100 grams of fresh Shiitake (3.6 ounces).
Purchase your own mushroom log: Our one foot Shiitake mushroom logs are available for scheduled pick up on our farm in Woodbury, TN. They are $22 and will produce 15-20 lbs. of mushrooms over a 3-5 year period. Here is how to get yours.
Make your own mushroom log: Schedule your own private 2-3 hour mushroom log workshop for groups of up to four people on our farm, take home the log you make, and start turning your own logs into a sustainable food source. Here's how to schedule your workshop.
DISCLAIMER: I am a farmer. I am not a doctor. Please consult your physician before using any of our products or advice for health purposes.