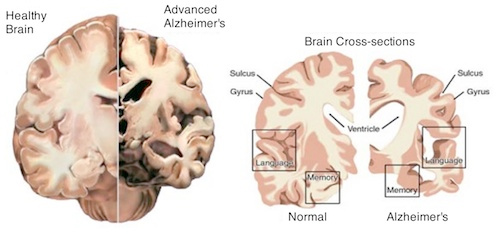 A study published in this month's Scientific Reports by Spanish scientists has found a strong link between Alzheimer's disease and fungal infection. The report could lead to early anti-fungal treatments for Alzheimer's disease and illustrates a growing understanding of how fungal, bacterial and viral infections relate to disease.
The study found that all brain samples identified as belonging to patients with Alzheimer's disease had signs of fungal infection in their neurons. The study does not answer whether the fungal infections caused the Alzheimer's disease or whether the disease itself made the patients more susceptible to fungal infections by compromising the blood-brain barrier protecting tissue from pathogens.
The Spanish study may lead to a closer look at recent findings by British researchers who found beta amyloid plaques of tangled neurons in Alzheimer's disease patients are transmitted through medical procedures. It may be that a fungal cause for beta amyloid is the actual culprit in the studied human transmission. Fingings from a U.C. Davis study published in Cell Host and Microbe found that beta amyloids in Alzhemier's disease trigger the same inflammatory immune response as amyloids created by bacterial biofilm.
Mushroom supplements: While there are no specific treatments for fungal infections recently discovered in tangled nuerons of Alzheimer's patients, scientists are finding promise in studies of extracted compounds from the Red Reishi mushroom (Ganoderma lucidum) that could later be used as compounded medicines or natural supplement treatments of Alzheimer's and other amyloid related disease.
A study in Brain Research showed the use of liquid extracts of Red Reishi mushroom may prevent harmful neurodegenerative effects of toxins on the brain's synaptic density proteins by exterminating toxic beta amyloids. A follow-up study indicates these liquid mushroom extracts could reduce beta amyloid-induced neurotoxicity as a natural supplement treatment. Red Reishi is already shown to alter the balance of gut bacteria that create biofilms and resulting amyloids.
Red Reishi is widely known & studied for its anti-fungal, anti-viral, anti-bacterial, and anti-inflammatory effects and continues to demonstrate wide uses as a natural anti-aging supplement.
Available now: Half Hill Farm makes a high quality dual liquid extract of the Red Reishi mushroom. We make it with USDA certified organic Red Reishi mushrooms, USDA certified organic pharmaceutical grade alcohol (USP) and distilled water.
UPDATE 03-09-16: Since this report was published, scientists and researchers have joined draw more attention to these findings and published this report in Journal of Alzheimer's Disease just yesterday identifying the viral, bacterial and fungal infections.
We are researchers and clinicians working on Alzheimer's disease (AD) or related topics, and we write to express our concern that one particular aspect of the disease has been neglected, even though treatment based on it might slow or arrest AD progression. We refer to the many studies, mainly on humans, implicating specific microbes in the elderly brain, notably herpes simplex virus type 1 (HSV1), Chlamydia pneumoniae, and several types of spirochaete, in the etiology of AD. Fungal infection of AD brain [5, 6] has also been described, as well as abnormal microbiota in AD patient blood. The first observations of HSV1 in AD brain were reported almost three decades ago]. The ever-increasing number of these studies (now about 100 on HSV1 alone) warrants re-evaluation of the infection and AD concept.
Many studies show a direct anti-viral effect of liquid Red Reishi extract (Ganoderma lucidum) on HSV-1. Several reports show anti-bacterial effects on Chlamydia pneumoniae, a bacertia not only associated with Alzheimer's, but also thought to be a casal factor in Multiple sclerosis, Asthma, Chronic fatigue, Rheumatoid Arthritis (RA), Fibromyalgia, Interstitial cystitis, and Crohn's disease.
NOTICE: Please consult your physician before using any of our products for health purposes. These statements have not been evaluated by the Food and Drug Administration. This product is not intended to diagnose, treat, cure, or prevent any disease.