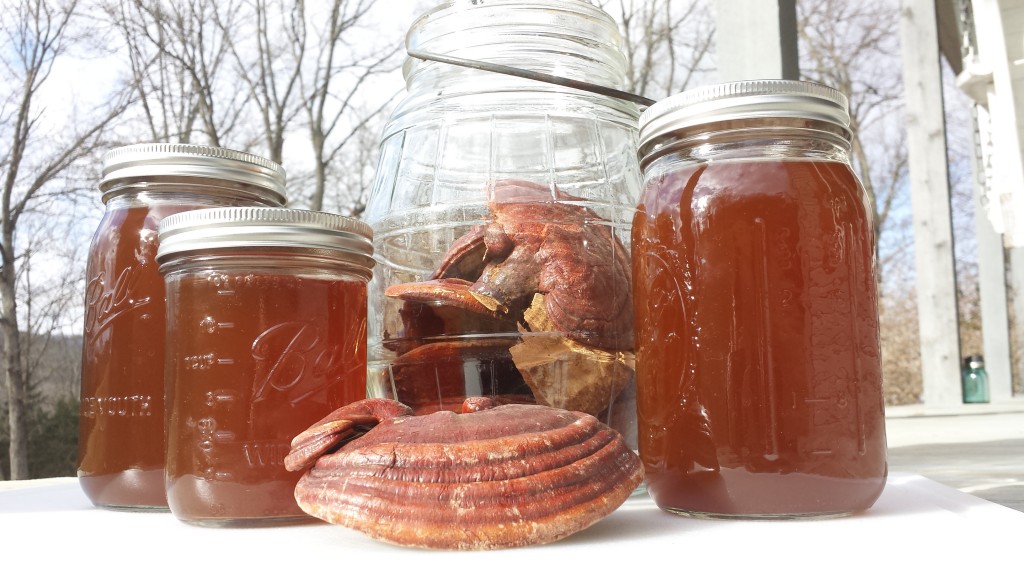 2 1/2 quarts of Red Reishi extract made at Half Hill Farm. Purchase our 1:1 dual extracts.

Red Reishi (Ganoderma lucidum) and Turkey Tail (Trametes Versicolor) mushrooms have been widely known for their medicinal value for centuries. Today, new studies reveal anti-cancer and anti-viral properties of high concentrations of polysaccharide K (PSK – an approved cancer drug) and lesser studied triterpenoids in both mushrooms. Last year, the FDA approved a $5 million study focusing on use of Turkey Tail PSK adjunctive treatment for stage four colon and lung cancers after promising results from an NIH study on breast cancer patients.
Many people mistake these two particular mushrooms as edible. Some websites actually prescribe so many grams of these dried mushrooms. The fact is, you cannot fully digest these medicinal mushrooms. The protein-bound polysaccharides can only be extracted through a several hour decoction process while triterpenoids typically are extracted over several days in an alcohol solution. You certainly won't die eating these mushrooms, but the best way to realize the full health benefits is to create a single or dual extract.
SINGLE EXTRACT (DECOCTION): A typical decoction is a 1 oz of dry mushroom to 1 cup of water. A single decoction will extract water solubles such as polysaccaharide K (PSK) and beneficial polypeptides (PSP).
1 oz dried Red Reishi or dried Turkey Tail mushrooms
2 cups of distilled or purified water
Take 1 oz. of the mushroom of your choice and place them in 2 cups of water. If you are using Reishi you will need to chop it up as close to 1 inch squares as you can. You can break it up into small pieces. Boil for 3-4 hours, reduce to between a light boil and simmer after the first 30 minutes. At the end, remove the mushrooms. You will then want to filter out any pieces of mushrooms. Your two cups should have reduced to close to a cup, including whatever you can squeeze out of your mushrooms.
Jar and store in the fridge for about 1 week before discarding. Take 2-6 teaspoons twice daily. Reishi is very bitter and best in coffee or soup broths.
DUAL EXTRACT: To extract antifungal, antibacterial, antiviral triterpenoids and other medicinal compounds present in the fruit body of the mushrooms, you will need to take the mushrooms from the first process and place them in a high proof alcohol for a month and blend them using proofing formulas.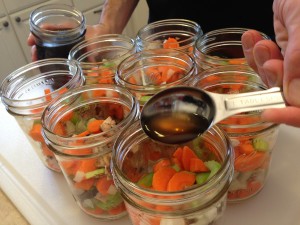 OTHER USES: Our first use for these extracts is 1 tablespoon in 16 oz. soup servings we are making for Vince's mother who was recently diagnosed at age 72 with stage IV lung cancer.
You can put 2 teaspoons of either extract in coffee and tea, or slightly more in soup, stews, or water you use to cook things like rice or even larger recipes calling for fluids.
WHERE TO GET: Growing your own medicinal mushrooms and following the steps above is the most affordable way to get extracts. We offer 1 foot logs inoculated with either mushrooms through our online store or larger logs for pick up at our farm in Woodbury, TN. This is the most economical way to grow your own. It takes several months for the logs to fruit and will produce seasonally for 3-5 years.
PURCHASE NOW: Our farm makes quality dual extracts of both Turkey Tail and Red Reishi mushrooms using distilled water and USDA certified organic alcohol (USP). Buy our Turkey Tail or Red Reishi extracts online.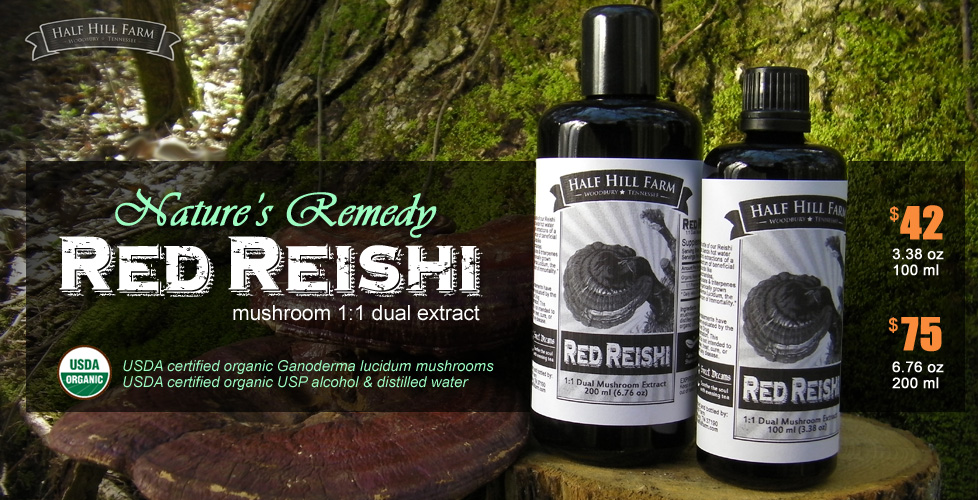 Research on Turkey Tail (Trametes Versicolor) mushrooms
Research on Red Reishi (Ganoderma lucidum) mushrooms
DISCLAIMER: I am a farmer. I am not a doctor. Please consult your physician before using any of our products for health purposes. These statements have not been evaluated by the Food and Drug Administration. Our products are not intended to diagnose, treat, cure, or prevent any disease.