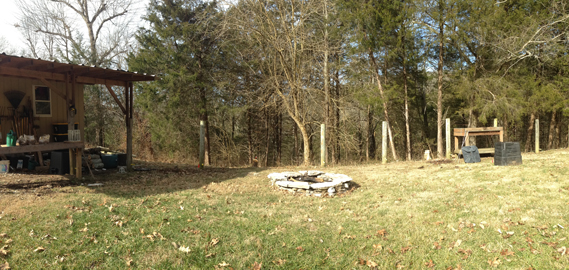 Spring is about 6 or 7 weeks away. Time to get the popup greenhouses out and get these seeds going!
Progress: Last March, many of you helped us raise funds to open our farm to more mushroom workshops. Although we fell short of our goal, a little hard work made up the difference. Thanks to your help, the workshop pavilion pad is getting poured next week (somewhere in the photo above) along with the entrance to our farm! We're excited about what this means for accommodating growing interest in our certified organic mushroom production and farm practices.
This year is our official harvest of Tennessee's first certified organic crop of hops on our farm! Most of this year's harvest will be dedicated to a new product coming out this Fall with some hops available to local brew clubs. Follow us on Facebook to know when these items will be available.
Change: This year we will not be regular vendors at the Woodbury Farmers' Market due to demand for our mushroom products. We're still figuring out what days we'll be there. This year will be our first official apple and blueberry harvest, and we're excited to make these available through local restaurants or at our local market.
Seeds: We're planting a lot of our favorites for salsa making this year from newly purchased certified organic seeds. Like our Shiitake mushrooms, whatever vegetable produce doesn't turn into Raw Salsa will be available direct to local restaurants.