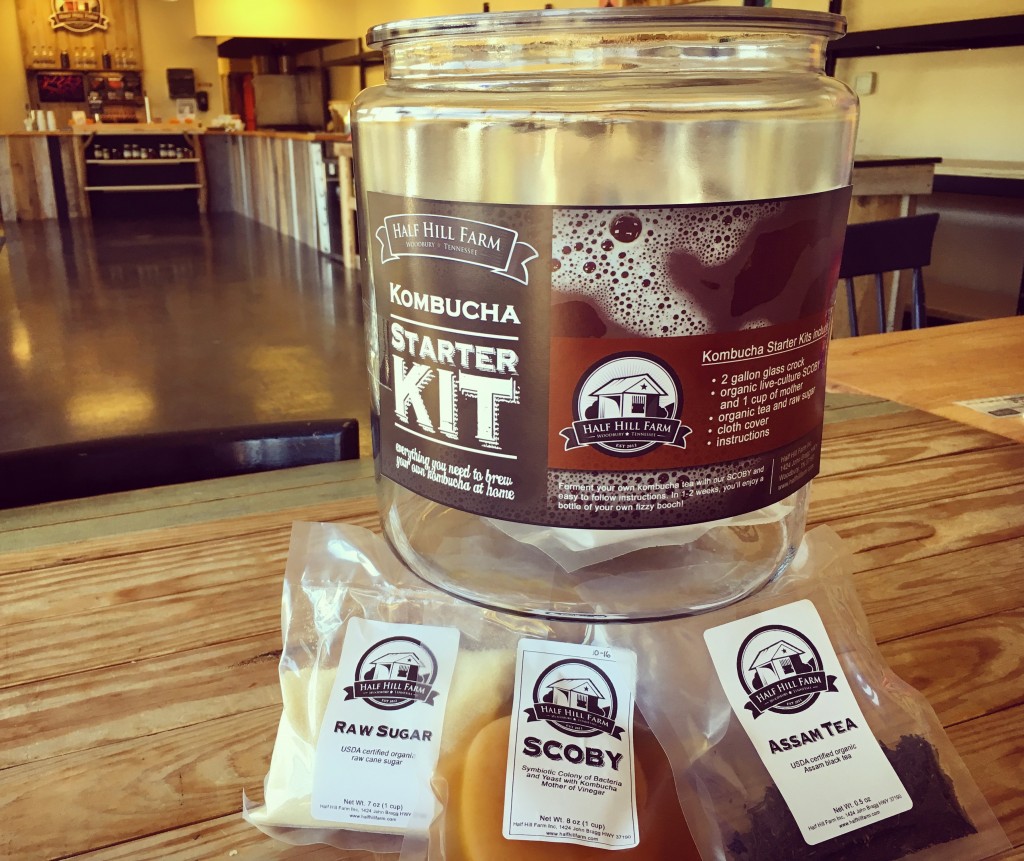 If you regularly drink kombucha you already know the many health benefits of this fizzy fermented beverage. Did you know you can make it yourself? Our new kombucha starter kits are everything you need to brew your own organic kombucha at home! Our kits include:
1 SCOBY (symbiotic colony of bacteria and yeast) in 1 cup of kombucha mother
1 cup of organic raw sugar
half ounce of organic Assam black tea
a 2 gallon glass crock
a cover and string
a one-page instruction sheet
HOW TO MAKE KOMBUCHA AT HOME
Order your kombucha starter kit from Half Hill Farm online. Each kit comes with more detailed instructions, but here are some basics for home brewers:
Bring 1 gallon of water to a boil, turn off heat and add half ounce of loose black tea. Let steep for 4 minutes, then strain out tea and dissolve a cup of sugar in the tea.
Pour into clean glass crock, cover and allow to cool to room temperature.
Open SCOBY pack and pour all the contents into the crock, cover and secure with string. (TIP: make sure your pH is 4.0 or lower to prevent bad bacteria and molds. You can lower the pH with more kombucha mother. Cheap pH meters will work for a while as long as you keep them calibrated.)
Allow to sit on the counter out of direct sunlight for 7-14 days. Use a straw to gently push aside SCOBY to pull a sample. When it is sour enough, it is ready for flavoring and bottling. (TIP: If you see defined patches of green, brown, white or black fuzzy spots on the surface of your SCOBY, toss the entire batch and start over. The perfect kombucha fermentation temperature range is 75-85 degrees. Do not stir during fermentation. You will see an explosion of yeast as brown strands followed by them falling to the bottom as a thin new SCOBY forms on the top. It may appear cloudy at first and begin clarifying close to the end. You can use thinner cheese cloth, but risk contaminants slipping through and landing on your SCOBY. Use fabric that does not prevent the air flow needed for your surface fermentation.)
Remove SCOBY and at least 1 cup of mother per gallon of new kombucha you want to make later and set aside in a clean bowl covered with a napkin.
Strain the kobucha to remove large strands of yeast or pieces of SCOBY. Flavor with organic cold pressed juices of your choice starting with a cup of juice per gallon to taste.
Pour into pressurized bottles (do not use glass designed for vacuum such as canning jars). Cap and allow to sit at room temperature for 2-5 days during which time a secondary fermentation will increase carbonation (it will also decrease sweetness, increase alcohol and increase yeast and form a small SCOBY – control this with refrigeration). Place in fridge to stop fermentation and enjoy! (TIP: beer bottles work but can explode if secondary fermentation goes too long. Use flip-tops, or swing-top bottles instead. They are expensive but well worth it.)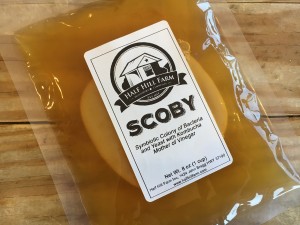 Want to keep it going without needing to buy more SCOBYs and mother? Take the SCOBY and mother you set aside in step 5 and repeat the entire process using your new SCOBY and mother! It's that simple.
Need to replace your SCOBY and mother? We have you covered. You can order Half hill Farm's SCOBY's with mother through our online store or our retail store in the Arts Center of Cannon County.
Health benefits of kombucha: By transforming a Southern staple beverage of many meals (sweet tea) with the natural process of fermentation, you reduce your sugar intake while aiding in digestion with the introduction of organic chemicals that are increasingly missing and eliminated from packaged and processed foods. The primary organic acid in kombucha responsible for helping the body process blood sugars is the acetic acid (vinegar) you smell and taste as "sour." Another acid that helps the body detoxify by binding to fat soluble toxins in the liver and making them water soluble and easier to flush out in urine is gluconic acid. Look up more benefits these two acids play in your health and well being. Digestion is also aided with a healthy balance of probiotic bacteria used to ferment the alcohol to various organic acids. These good bacteria help bring your gut's biome in proper balance.
Got any questions? Leave them in comments. We are happy to help spread the culture and appreciation of fermentation, better health and well being!