We spent most of the beautiful weekend (ahead of predicted rains) getting everything planted. Due to the frost two weeks ago, we are about a month behind on everything we had to start over from seed. Of course, the dandelions made it just fine!
Based on having produced a little over 600 lbs. of food last year (our first year), it looks like we may do more than three times that much this year, and that doesn't include mushrooms, apples and blueberries.
What we planted: (watermelons) Chelsea and Sugar Baby, (peppers) Anaheim, Poblano, Peperoncini, Beaver Dam, Cubanelle, Golden Treasure, (tomatoes) Roma and Lemon Drop, (herbs) Sage, Lavender, Basil, (cucumbers) Zimmerman, Sumter, and some Danver carrots.
Where and how to buy: You can find us this year at our local Saturday farmers market in Woodbury, Tennessee (located at the Arts Center of Cannon County) beginning July 5.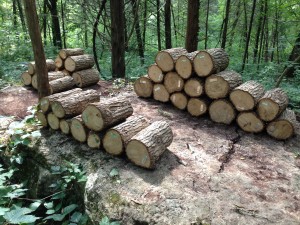 We will also have our 1 foot Shiitake, Reishi and Turkey Tail mushroom logs that should produce 10-15 pounds of mushrooms over 3-5 years. Look for our mushroom extract infused chocolates and other unique seasonal products hand-crafted with love on our farm at the market as well. Be sure to follow us on Facebook and Twitter to see when we'll be there.